Christmas Book Give Away 2020
On the 4th November, our Librarian, Mrs Fenn asked for student nominations to receive a signed book from the author Tom Palmer.
This is what Tom wrote:
For the past few years I have asked teachers and librarians to nominate children they think would benefit from the gift of a book for Christmas. My family and I would like to do the same for Christmas 2020.
Our idea is to work with teachers and librarians to help us gift books to children who do not have any books at home; to children who need that one special book that could help engage them with a lifetime of reading for pleasure; or, to children who have had a difficult year at school or home and a book would be a boost for them. Sadly, there will many such children this year.
Miss Daley made her nominated and we are delighted to announce that Jeremy will be receiving his free book this year.
This is the letter received from Tom Palmer:
Dear Miss Daly
Thank you again for nominating a child to receive one of my books this Christmas.
We really appreciate you taking the time to make contact.
We were very moved by the stories told in nominating the children and thank you for your honesty.
We received over 100 nominations - very moving emails about children in great difficulties, but thankfully they have the wonderful support of their teachers.
We have increased the number of books offered to 75 and I am delighted to say that we are able to shortly send Jeremy a signed and gift-wrapped book and Christmas card. And we wish him all the very best for the future.
Thanks again for taking part.
We wish you a very Happy Christmas and all the best for 2021.
Tom, Rebecca and Iris Palmer
Tom Palmer
You should follow me on twitter @tompalmerauthor
Tom Palmer is th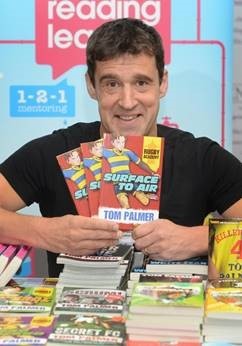 e author of 50 KS2 and KS3 books for children including three Puffin series. Foul Play was shortlisted for the 2009 Blue Peter Book Award. Armistice Runner has recently won 6 prizes including the national FCBG Children's Book Award 2019 and was nominated for THE CILIP CARNEGIE MEDAL and 16 other UK prizes. D-Day Dog about the D-Day paratrooper Emile Corteil and his dog Glen, has been listed for 13 UK prizes and has won the Portsmouth Year 5 Book of the Year Award, the James Reckitt Hull Children's Book Award and the Warwickshire Junior Book of the Year Award.
Tom's new children's novel After the War is about the three hundred child concentration camp survivors who came to the Lake District nearly 75 years ago (known as the Windermere Boys) was published in August 2020 by Barrington Stoke. More information and resources here www.tompalmer.co.uk/after-the-war/