Welcome to Ditton Park Academy Sixth Form
Since opening in 2014, Ditton Park Academy has rapidly developed a reputation for educational excellence in its 11-16 provision.
We are delighted that our new Sixth Form is just as popular and vibrant, having

opened the Sixth Form Centre in September 2019. We have the same very high expectations for our students and would like to support them in successfully achieving their next steps, be that entry to Russell Group and other leading universities, apprenticeships or skilled employment – all supported through our comprehensive and varied curriculum offer of over 20 courses at A-Level and BTEC Level 3.
Young people joining Ditton Park's Sixth Form receive an excellent education in stunning surroundings. Our teachers have proved how dedicated and expert they are in creating a new school and developing new courses. The school environment is designed to inspire high-level study and all of our subjects are extremely well resourced.

Ditton Park Academy's Sixth Formers can expect to be well taught, challenged and supported throughout their studies. We recognise that the leap from Year 11 to Year 12 can be considerable for many young people and so at DPA, our mentoring and pastoral systems will help ensure that students adapt quickly and securely to their Post-16 studies.
Alongside academic studies, we take the wider aspects of Sixth Form life very seriously. Our aim is to help all of our Sixth Formers become confident young adults equipped with excellent social skills and a sound awareness of the world around them. We actively seek to develop effective leadership skills in all of our Sixth Form students and our aim is to help young people to develop their strengths and build resilience.
Our enrichment programme is wide ranging. It aims to be stimulating, challenging and enjoyable giving our students plenty to think about and preparing them to be active citizens of the twenty-first century. As part of the enrichment programme, students meet experts and speakers who will motivate and help prepare them for life beyond school. Trips, clubs, societies and social events will also form key parts of our Sixth Form enrichment programme.
We very much hope that you will consider joining us in the Ditton Park Academy Sixth Form in September 2020 so that we can inspire young people over the next two years to be successful and aspirational adults.
If you still have any questions once you have navigated through the prospectuses, please contact Mrs Khuram at s.khuram@dittonparkacademy.co.uk or through the Main School Office number 01753 537594.
Nick Caulfield Chris McNab
Executive Principal Associate Principal
What Financial Support is available at DPA Sixth Form?
This document below sets out what financial support is available for students enrolleat DPA Sixth Form and how it can be applied for.
Free School Meals
Just as in Year 7-11, DPA Sixth Form students are able to claim free school meals if their parent(s) or carer(s) receive one or more benefits.
16 to 19 Bursary Fund
This provides financial support to help overcome specific financial barriers to educational participation. It is made available from the government and is a partial replacement for the previous EMA (Education Maintenance Allowance). To apply, students must be aged 16, 17 or 18 at 31st August 2019 and meet the residency criteria.
There are 2 types of 16 to 19 bursaries:
1. Vulnerable Bursary
A student is eligible to claim up to £1,200 a year if they meet one or more descriptors in the attached policy document.
2. Discretionary Bursary
A student can also apply for financial help with the cost of educational-related transport, meals, clothing, books, kit, exam re-sits and equipment. This is based on students' individual circumstances and takes into account student attendance and behaviour record. Payments can be made by bank transfer or made 'in kind'.
What grades do I need for DPA Sixth Form?
General Entry Requirements: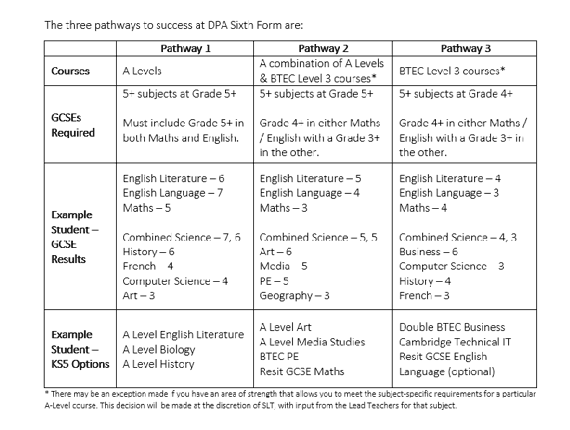 Subject Specific Grades Requirements:
DPA- Sixth Form Application Form- Internal Students only
Please use this application form if you are currently studying at Ditton Park Academy
DPA- Sixth Form Application Form- External Students only
Please use the link below to apply for a Sixth Form place at Ditton Park Academy if you are NOT currently studying at Ditton Park Academy
Presentation From Sixth Form Open Evening